A ground-breaking new approach to using the Enneagram will help you discover that you're more than just your number.
Dive deep to understand yourself, find forgiveness on the way, and navigate a path to experience powerful personal and relational growth.
"You're such a 9."
If you're a 9, you've probably heard that more times than you can count.
No matter what number you are — you've heard something similar.
"Of course a 5 would do that."
"Oh boy, here comes the 8."
Hearing this about yourself can make it seem like you're small, simple, and nothing more than a numerical value.
Or you find yourself relating to more than one number and you're not sure where you belong.
And that can bring your personal growth to a screeching halt.
You are more complex

than the
stereotype of your number.
Think about it with what we call the "Sherwin Williams metaphor." You may want to paint your front door a brilliant blue. When you head to the store, though, suddenly you realize there's countless options of "blue."
You're number represents something far more complex.
The Enneagram isn't meant to simplify you to a point where you feel jammed into a tiny box. It's a powerful tool to give you the language to properly articulate who you are AND provide routes to healthier behaviors.
Your main type was always meant to be a springboard into

a deeper understanding of yourself

.
But that's where things can get complicated.
If you're concerned that the Enneagram has labeled you and gets more in the way rather than providing solutions…
Confused about how to practically apply the Enneagram's guidance to your day-to-day life…
Or wonder how you can take a deeper look at yourself in an accessible way with the Enneagram…
Then you've come to the right place.
The Enneagram can show you the many facets of why you think, feel, and behave in particular ways based on your core fears and desires.
But, the map for your self-discovery is more comprehensive than one single number.
First, a little about us.
I'm Beth McCord, best-selling author, founder of Your Enneagram Coach, and I've been a speaker, coach, and teacher for over 17 years. I'm passionate about creating a community where you can discover the path to lasting change, meaningful relationships, and a life fulfilling the deep purpose God has planned for you.
My husband, also best-selling author, Pastor Jeff McCord, co-founded Your Enneagram Coach to provide clarity and to help you break free from limiting patterns to experience freedom in Christ. He has his Masters in Divinity and multiple certifications in pastoral counseling, family and church mediations, and Gospel Coaching.
Our goal is to give you the tools to see the whole picture of yourself and find your path to the best, Christ-centered version of you.
You may know your Enneagram number. You may have done some preliminary exploration of who you are. You may even have a few tools, but you find yourself asking this question:
What's next?
That's why we're thrilled to show you the Enneagram Internal Profile.
INTRODUCING
Enneagram Internal
Profile Course
The Enneagram Internal Profile (EIP for short) is our new approach for using the Enneagram from a Gospel-Centered perspective that gives you deeper insights into your growth paths beyond your main type.
This is the process we ourselves use even after two decades of using and teaching the Enneagram and we love that we get to share this with you.
The Enneagram Internal Profile Course makes the Enneagram more accessible so you can easily utilize this amazing tool for personal clarity and bring about accelerated growth.
We have designed this course to bring you the foundational and transformative information you need to start implementing what you're learning right away. We know that when you fully understand your EIP, you can easily use it each and every day for radical transformation in your life and relationships.
Your main Enneagram type is the driving force behind WHY you are you — your thoughts, feelings, and behaviors.
But this isn't the only thing that influences the lense you see the world through.
The EIP represents the parts of you with their own motivations, perspectives, and ways of interacting. These parts can grow in healthy ways or hold you back in unhealthy ways.The Enneagram types that interact with your main type reveal how you interpret and interact with the world.
The EIP is all about giving you the language, tools, and insight through a Gospel-Centered lense of your internal landscape.
And our past students and coaches agree:
"I just completed the 5th session with a Type 2 client. At the end I told her about EIP, and before I could ask if she wanted to continue, she was telling me she wanted to continue. She is so grateful for all the changes she's seeing in her life."
—

Janet Howard
"Yay, yay, YAY! This was all so good! My favorite part of the EIP Workbook has to be each type's quick sheet. Those are amazing resources to quick reference and recognize the parts and the whole in ourselves. THANK YOU!"
—Serena Carlson
"Just wanted to say thank you to Beth McCord and Jeff McCord for the great EIP training this weekend! It was like you put language to the feeling I had in the secret place with the Lord in regards to how to incorporate being a child of God and living out of that reality with the use of the Enneagram. I realized just how out of tune I've been with some parts of me...how I've been blind to how they interact in my life. Growth is happening, it's on its way, and it's exciting."
—Cally Welch
What's Included
Working alongside your main Type are a variety of other Enneagram numbers you're connected to, and the EIP helps you identify and lead these parts of you for your everyday growth.
See exactly what you're getting when you purchase the Enneagram Internal Profile Course:
Five Coaching Sessions
Walk through your EIP with me, Jeff, and Your Enneagram Coach's Director of Coaching, Adam Breckenridge. These engaging videos are the foundation of a powerful new approach to your internal family. They're like experiencing personal coaching sessions specific to your Enneagram type.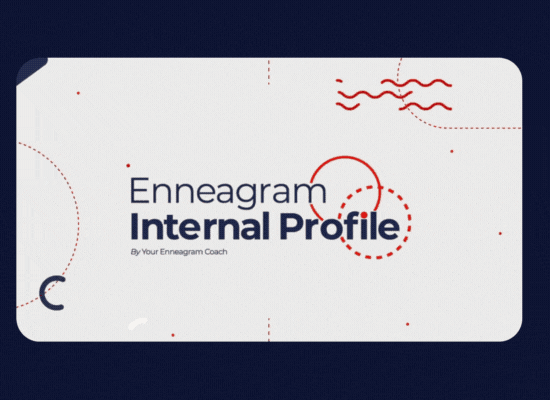 COACHING SESSION #1
Understand Your Enneagram Type Like Never Before
I go through the foundations of your EIP and an overview of your Enneagram type. This is crucial insight you need to fully utilize the rest of the coaching you'll receive in the EIP coursework. You'll get a roadmap to your:
Main Enneagram type's primary perspective and core motivations

Core fear, desires, weaknesses, and longing for your main type

Gospel-Centered connection to your main Enneagram type

Ability to see through your main type's lens through reflective questions
COACHING SESSION #2
The AWARE Exercise
Jeff will explain how you are more than just your main Enneagram type with Scripture-backed guidance. So many other courses only describe you, this exercise will help you coach yourself. Then I'll run through one of the key tools you'll use to apply your coaching to everyday life — the AWARE acronym. You'll:
Be able to translate what you're learning into simple day-to-day growth practices that take only 5 minutes of your time

Break down the AWARE acronym to fully utilize your complex Enneagram paths easily

Take your first steps into a whole new, in-depth approach to the Enneagram

Learn how to pivot when you face an unhealthy habit or way of relating
COACHING SESSION #3



The Wounded Child and Beloved Child
Jeff will go through two critical parts of your type — the Wounded Child and the Beloved Child. This foundational tool of your EIP will give you a new way to see the Enneagram through a deep connection to the Gospel. You'll learn:
How your Wounded Child uses unhealthy coping mechanisms to survive trauma

The path based on your main type to a healthy version of you — the Beloved Child

Why it's important to see what you need to face in yourself so you can overcome it
COACHING SESSION #4
Your Enneagram Type's Wings
Adam will take you step-by-step through your main Enneagram type's wings — the right and left numbers of your type. Your wings are the beginning of the larger picture of your internal landscape that will allow you to see more of yourself. You get:
A breakdown of how your wings interact with your main Enneagram type

What your Wounded Child and Beloved Child parts look like for your wings

Guidence on the parts of you that hurt that you feel you can never change

Tools to move you from your past and painful memories to your healing present

How to lead your wings to healthy alignment with your main type
COACHING SESSION #5
Your Enneagram Path's Type
Adam will go through the other set of connecting parts of your main Enneagram type — your Enneagram paths. These paths are the line on the Enneagram symbol out of your main type. They show up in healthy and unhealthy ways based on if you're under stress or are growing. In this session, you'll:
Discover an in-depth analysis of your main type's God-given Enneagram paths that shows how they are gifts and not burdens

See how the Wounded Child and Beloved Child interact with both of your paths

Learn how to navigate your paths in their healthiest forms
Expert Teaching
The EIP coaching is delivered directly by yours truly, Beth and Jeff McCord. We bring all of our best personal insight that led us to become Enneagram experts and best-selling authors.
We founded Your Enneagram Coach not just to help you discover deeper parts of yourself but to train coaches to go out and help others too. That's the kind of training you can expect from us.
You'll also be introduced to Enneagram Expert and the Director of Coaching here at Your Enneagram Coach, Adam Breckenridge. His teachings will give you new tools to use on your way to a healthier you.
Both Jeff and Adam's many years of pastoral experience combined with my decades of Enneagram research, means you can be confident that this program is gosepl-centered AND packed full of Enneagram wisdom.
The AWARE Exercise
The AWARE acronym was designed to help you find clarity navigating the Enneagram. Often, we get abtract advice on how to change our thought-patterns but AWARE gives you a step-by-step guide to doing so.
See how it can improve mental and spiritual health, stronger relationships, and day-to-day growth the same way it has for people worldwide. AWARE takes your Enneagram Type description and turns it into a personal transformation.
Detail Guide Sheets for Your Type
Each coaching session comes with a roadmap of what you learned. Each is tailored to your main Enneagram type with the exact layout of how your wings, paths, and Wounded/Beloved Child parts interact.
You'll also be guided through various AWARE exercises in each guide sheet, making them invaluable to your daily applications of the Enneagram.
A New, Digestible Approach to the Enneagram
The Enneagram is meant to simplify a complicated concept — you!
Even after years of study, you may not have insight into how your complex layers make up your personality and motivations. The EIP course reveals a new, easy-to-understand approach that guides experienced users and beginners alike.
All while avoiding stereotypes that make you feel like nothing more than a number.


What Does the Enneagram Internal Profile Cost?
In the time we've been teaching the Enneagram, and giving those tools to other leaders, the number of Enneagram online courses has surged. It's hard to pick through the vast selection available and find something that's right for you.
Even harder is finding something in-depth at an affordable price.
You'll find plenty of workshops out there that run on Zoom or something similar that can cost you $295 for two days of training. Even with a discount, they get offered at $275, and once the workshop is over, it's up to you to utilize that information out in the world on your own.
Even introductory courses to the Enneagram can cost $299.

Our courses offer something different. We want you to be able to revisit the guidance over and over with reflective prompts and downloadable, printable detailed guides to have on hand.
The EIP course is no different. You'll have lifetime access to learning that can transform you from the very first session.
Even at its regular price of $147, you could have life-changing guidance for half the price as some of the other workshops out there.
But we believe in this radical new approach to fully integrating the Enneagram so much that we're offering the EIP course at a special discount price for this week only
$147
Now $97
(Limited Time Offer)
You'll get hours of coaching sessions, detailed learning guides, and a Gospel-centered perspective tailored to your main Enneagram type to dive deep into what drives your motivations, fears, and personality.
And you can revisit it anytime.
Our Money-Back Promise
We know that any time money is involved, it's a commitment.
Even at half the price of other Enneagram courses and workshops…and even at the discounted rate for this week…we get that you want to be confident about your choice.
We respect that commitment and guarantee that the EIP course is worth every penny. If, for whatever reason, you aren't satisfied after 30 days, you can ask our team for a refund, and we will give back every dollar.
We know that means someone can take advantage of us, but we would rather you get the transformational coaching and start a new chapter of your life than have you worry about if this was worth the cost.
What's different about the Enneagram Internal Profile compared to other Enneagram tools?
In our ground-breaking new approach to using the Enneagram from a Gospel-centered perspective, you will discover that you are more than one Type and have various parts within you that are trying their best to assist you from their unique perspective.
When your parts are aligned, they do an incredible job assisting you to walk in strength. But when your heart is misaligned you feel confusion, frustration, and repeat unhelpful patterns.
You will also learn how to use the acronym AWARE to help you recognize these various parts of you and how they are showing up in your day-to-day life in either healthy or unhealthy ways.
Being AWARE gives you the ability to pivot and ask the Holy Spirit to enable you to bring your Beloved Self back into the leadership role and guide all your parts to gospel truth. This brings about more joy and freedom into your life and relationships.
In each session, we will walk you through a guide sheet revealing a key aspect of your Enneagram Internal Profile. We crafted each of your sessions to maximize your growth.
And remember to hurry if you're interested! The special enrollment offer ends SOON!
$147
Now $97
(Limited Time Offer)
What if I don't know my Enneagram number yet?
You can select "I Don't Know My Type" as an option when you join the course.
Since the EIP course moves at your own pace, you can purchase the course without choosing a specific number, and we will coach you so that you can feel confident about Typing yourself.
What if I discover that the EIP isn't for me?
As we mentioned before, we don't want you to feel like you're taking a risk purchasing the EIP course. If you don't like the course for any reason, you can ask our team for a full refund within 30 days, and we will promptly return your entire payment.
We know there are a ton of Enneagram courses available to you, and we want you to be confident about your choice.
Because we know that the EIP course is that life-changing.
Can I purchase the EIP course later?
To take advantage of the sale price of $97, down from $147, you need to purchase the course before during this special enrollment.
After that, the course returns to its regular pricing.
Imagine the clarity of fully knowing yourself…
Why am I like this?
Why do I do this?
Will I ever change?
Everyone has these questions about themselves at one time or another.
To answer them, you need tools that you can use, understand, and implement into your day-to-day life.
That's where the Enneagram Internal Profile Course comes in to help.
It is the tool to discover the parts of yourself you have never been able to see clearly before.
Imagine having the language to articulate how you think, feel, and behave…
Imagine exploring where your fears and desires come from and how to grow through them…
Imagine an Enneagram course fully connecting to the Gospel that can offer you meaningful and lasting relationships with yourself, others, and God…
You can start today and dive into your personal growth the moment you begin the first session of the Enneagram Internal Profile.
Join the Enneagram Internal Profile Course now!
$147
Now $97
(Limited Time Offer)